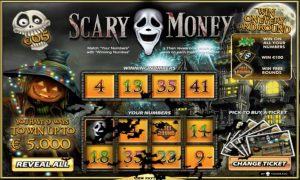 If you like horror movies and frightening stories you will certainly enjoy Scary Money scratch card game by Yggdrasil Gaming. This is a Halloween themed online casino game inspired by the "Scream" movie, a 1996 American slasher film written by Kevin Williamson and directed by Wes Craven. An old haunted house under a full moon and a screaming mask, very similar to the one of the popular movie, is the stage of the game. Hordes of bats emerge from your card after every selection and a worrying scarecrow with its jack-o-lantern head stares at you from the left while you play.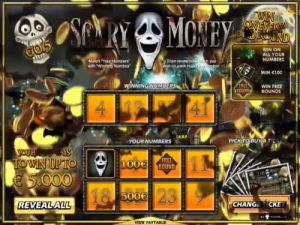 Place half a euro bet and choose one of the cards on the right side. The top 4 wooden windows hide the winning numbers. Match them with your numbers behind the lower eight windows and win big. Yes, you will literally see an explosion of gold coins when you win.
Together with your numbers you can find 3 different kinds of symbols, which will award you with a wide range of extra prizes. Find two clover symbols and you will win on all your numbers. Find 2 screaming mask symbols and you will win €100 guaranteed.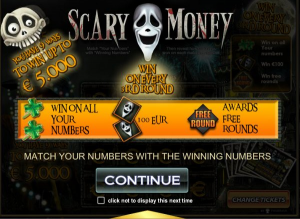 Find one "free round" symbol an you will get free extra tickets.
The best part of the game is that you can win up to €5,000 with a single ticket. So there is really nothing to be scared about, apart from the endless possibilities that will present themselves when you'll win €5,000 with a €0.50 bet. Now you can visit your favourite casino powered by Yggdrasil Gaming and play the game for real. Have fun!